Killer Bee | Scrub
Regular price
Sale price
$25.00 USD
Unit price
per
Sale
Sold out
Killer Bee is our first "killer" scrub.  Slough off your dead skin cells and bacteria clogged pores and keep your skin healthy.
Our Killer Bee ingredients: 100% Grass Finished Tallow, Jojoba Oil, Blue Tansy, Black Hawaiian Sea Salt and Orange Essential Oil.
**WHY WE LOVE IT**
Blue tansy is known to have powerful antioxidant, anti-inflammatory, anti-viral, antibacterial and anti fungal properties which can calm and smooth a range of skin concerns including eczema, acne and sun damage. The main chemical component is sabinene which is know to help diminish the appearance of blemishes, fine lines and wrinkles.
Orange Essential oil is a key component in all of the Tallow and Honey moisturizers because of its Vitamin C boost

Black Hawaiian sea salt is known to have high antioxidant properties and low sodium levels. It contains minerals such as, iron, calcium, and magnesium. It supports an increase in circulation and may help reduce blemishes. The sea salt is infused with naturally activated charcoal from lava and filtered through coconut shells in the beaches of Hawaii. 
Get to know all of the benefits of our ingredients here!
**Please Note**
This is a completely natural & handcrafted product. There
can be variations of consistency and texture between each
batch of tallow. However, this does not alter the quality or
amazing properties within the tallow.
**Disclaimer**
Products from Tallow and Honey are
not
FDA approved
and are
 

not
intended to diagnose, treat, or prevent
disease.
I always recommend to perform a test patch to check
for sensitivity. If sensitivity occurs, discontinue use
immediately.
Share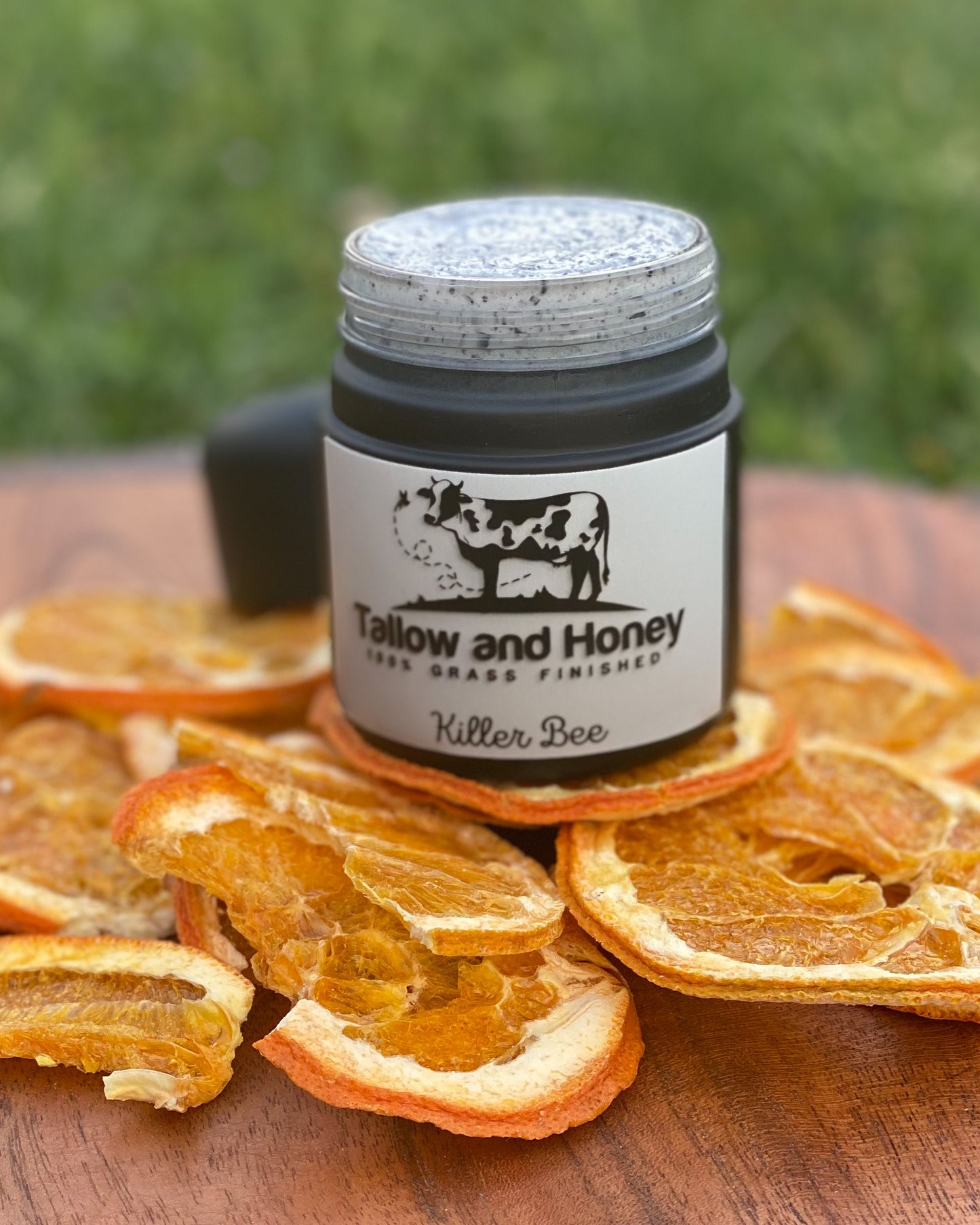 Awesome
Absolutely 💯 love my products
It works great
Perfect scrub for my skin.
Awesome product!
I use this scrub every morning and am obsessed! It leaves my skin feeling so silky smooth and it smells absolutely divine! You need this in your life.
Great Alternative To Commercial Scrubs
I love the light exfoliation of this scrub and how silky it leaves my skin feeling after. Plus, the smell is heavenly. Feels like a mini spa day every time I use it.
A Little Treat for my Skin!
The last exfoliatating scrub I used was some name brand grapefruit crap in 2010. My face would always break out and so I would continue to use it. I eventually stopped.
Once I started using this scrub in addition to the basic bee, my skin feels so good!
I've used it on my tummy as well near my c-section scar and stretch makes to help get that looking a little more natural!
Love this scrub. It's a nice little treat every few days ❤️