Our Mission
Here at Tallow and Honey we take pride in our luxurious, hand-made and high-quality skin care products. Our all-natural ingredients are meticulously hand-picked due to their known ancient healing and medicinal properties to support your skin naturally.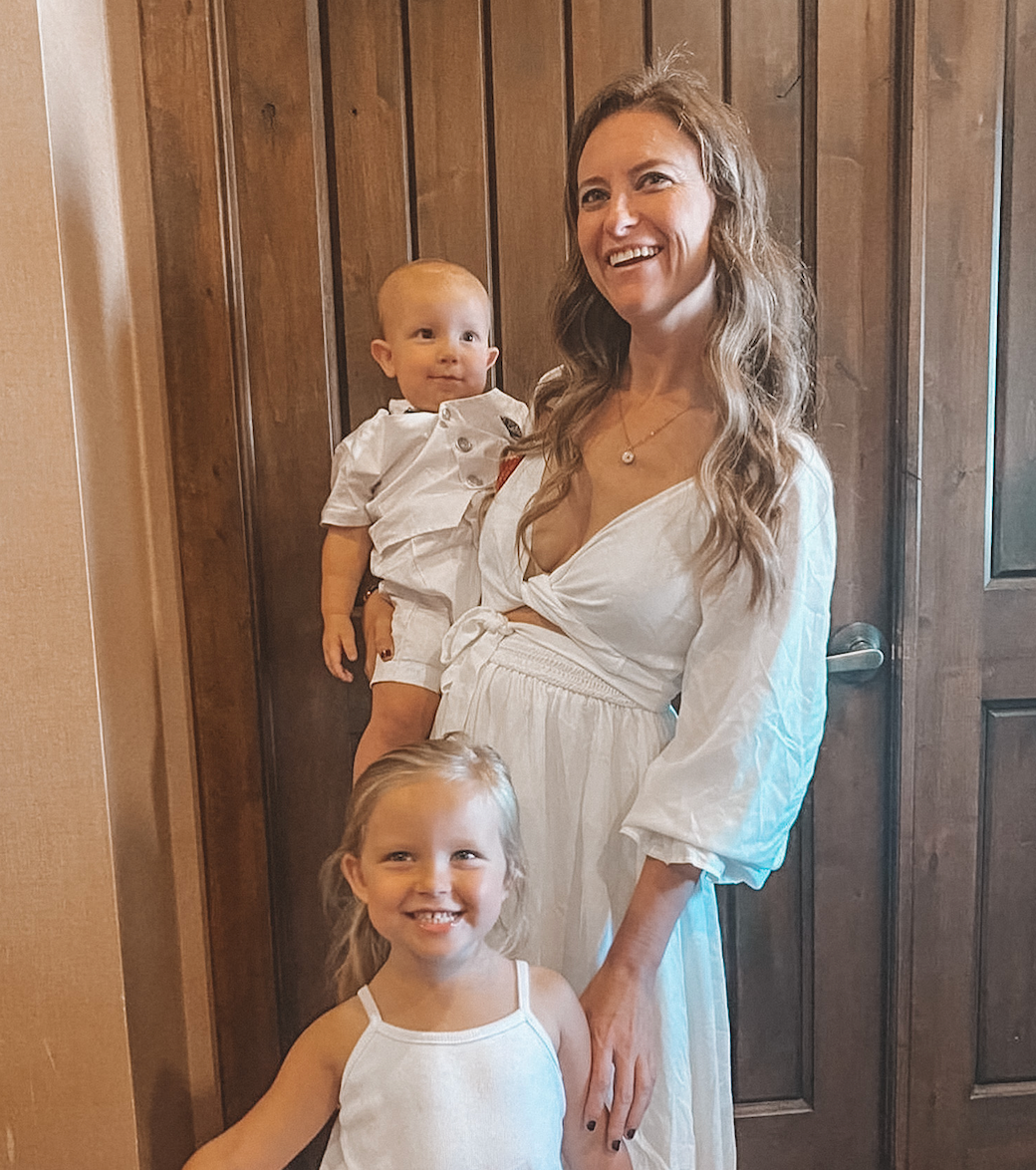 Meet Meagan.
Mama with a love for all things postpartum on a mission to create the perfect blend of Tallow & Honey for postpartum moms and families struggling with different skin issues (such as diaper rashes, stretch marks, hormonal acne, etc).

I started the trial and error process of perfecting the some samples that I used on myself and noticed incredibles changes in my skin and couldn't wait to share these products with the world.

At just five months postpartum with my second baby life as I knew it crumbled around me. I went from stay at home mom to (temporarily) a single mom who needed to support my babies and find myself again. I made the biggest leap of faith. I believed so much in my products and in myself, I went for it and the rest is history!

My passion for living a holistic and low toxin lifestyle is something I wanted to carry through in my brand. I wanted your biggest organ to be glowing from the inside out.
Creating clean skincare with nature's beautiful ingredients.
Tallow

Our tallow is 100% grass fed, grass finished, non-GMO and completely natural.

What is it? It is an intense moisturizer that assists in retaining the skins natural moisture. It replenishes the building blocks of your skin that naturally decrease with age. It's non-greasy, won't clog your pores, long-lasting and 100% natural. Tallow contains natural antimicrobial properties to help prevent acne and breakouts, as well as has powerful anti-inflammatory properties. It contains a wide array of all the beneficial nutrients that our skin needs to repair itself and help prevent damage to skin. Positives to tallow are essential vitamins (A, B12, D, E and K), and essential fatty acids that mimic our own skin. 
Manuka Oil 

What is it? It is a UV powered super plant, getting its unmatched antibacterial power straight from the sun. Manuka Oil helps to lock in moisture on the skin while remaining breathable and has been known to boost skin cell production and repair.
Jojoba Oil

What is it? It is an extremely effective natural moisturizer. When you put Jojoba oil on your skin, your skin is soothed and moisturized. This sends a signal to your hair and sweat follicles that your skin doesn't need additional sebum for hydration. This keeps skin from looking oily and helps prevent acne caused by clogged pores.
Rosehip Oil

What is it? It is an oil that has been used since ancient times for its valuable healing benefits. It is loaded with skin-nourishing vitamins and essential fatty acids.
Manuka Oil & Rosehip Oil Blend

What is it? This blend plays a key role in collagen boost. Rosehip Oil is one of the best essential oils for collagen, and Manuka Oil takes it to the next level with it's powerful antibacterial effectiveness and UV protection.
Orange Essential Oil

What is it? It is loaded with antioxidant constituents that scavenge free radicals, which helps prevent signs of aging and keep skin healthy. The boost of Vitamin C helps skin rejuvenation, acne fighting properties, great for sensitive skin, inhibits premature aging, clears blackheads, prevents infection and treats dry/dull skin. It also smells so refreshing and delicious.
Lavendar Oil

What is it? Lavendar oil has been known to be one of the best essential oils when it comes to healing skin conditions, burns and cuts. With it's anti-inflammatory, anti fungal, antimicrobial and detoxifying benefits, it has been known to help reduce redness, soothe and calm the skin and rapidly heal minor cuts and scrapes, as well as any rashes. Not to mention, it's beautiful aroma.
Blue Tansy

What is it? It has antioxidant and anti-inflammatory properties. It is most common use is to calm irritated skin, reduce heat and relieve delicate or troubled skin. It's ability to clear congested pores, kill off pimples causing bacteria, and reduce redness, make it one of the best oils for acne prone skin. It is in the chamomile family and is known to benefit skin conditions such as eczema, psoriasis, dermatitis, signs of aging and other inflammatory issues.
Black Hawaiin Sea Salt

What is it? It is a combination of sea salt harvested from the Pacific Ocean surrounding the remote Hawaiian Islands and activated charcoal derived from coconut shells, which gives it's distinct black color. The granular texture makes and excellent cleanser for the skin. It deep cleanses skin to unclog pores and remove deep dirt. It promotes blood circulation in the area it is applied to which emphasizes a healthy glow.
Emu Oil

What is it? It is a natural product that is rich in antioxidants like Vitamin A and polyunsaturated fats. It has long been used in Aboriginal culture to heal wounds and treat common skin disorders; such as acne, eczema, psoriasis, rosacea and shingles. Emu Oil is also said to have anti-inflammatory and anti-aging properties.
Squalane Oil

What is it? Sqaulane oil boosts your hydration. It is high in antioxidants, boost collagen production, improves skin at a cellular level, detoxifier, anti-inflammatory, and derived from olives.
Tamanu Oil

What is it? It is extracted from the seeds that grow on a tropical evergreen called a Tamanu Nut Tree. Tamanu Oil has been used medicinally for hundreds of years for acne, acne scars, Athlete's Foot, wrinkles, dark spots, dry skin, eczema, stretch marks and sunburns. It is also rich in antioxidants, antifungal, anti-inflammatory and promotes collagen.
Vitamin E Oil

What is it? A powerful antioxidant that may be effective at reducing UV damage in skin. When applied topically it has been known to help nourish and protect your skin from damage caused by free radicals such as aging, inflammation and sun damage.
Cedarwood Oil 

What is it? Cedarwood oil has been know to soothe irritation, inflammation, redness and itchiness, as well as dryness that leads to cracking, peeling or blistering. It helps regulate sebum production, eliminates acne causing bacteria, guards the skin against environmental pollutants and toxins, reduces the chances of future breakouts, helps to eliminate unpleasant odors and reduces the signs of aging. When it is blended with Lavender Oil it enhances both scents to collaborate a rustic, woodsy scent.
Arnica Oil

What is it? It is used topically for a wide range of conditions, including bruises, sprains, muscle aches, wounds, superficial phlebitis (usually a varicose vein), joint pain, inflammation from insect bites, and swelling from broken bones. It may also be helpful in the treatment of burns. Arnica has been found to contain powerful antimicrobial and anti-inflammatory properties.
Peppermint Oil

What is it? It is used to soothe inflammation, irritation and itchiness on skin and scalp. It promotes wound-healing, natural remedy for soothing bug bites, some rashes, hives and itchiness.  Peppermint Oil has strong antimicrobial properties that act as an effective natural element against acne.  Not only does it cleanse skin and unclog pores, it also provides epidermis with the optimal environment in which to thrive.
Blue Lotus Oil

What is it? A natural moisturizer to help improve the look and feel of dry, rough or flaky skin.