Bee Flawless | Anti-Aging
Regular price
Sale price
$50.00 USD
Unit price
per
Sale
Sold out
Our Bee Flawless balm contains silk proteins help to naturally reverse the aging process of the skin. It also has the longer and deeper moisturizing effects because of the Emu Oil and the collagen boost of the Rosehip and Manuka Oils.
Our Bee Flawless balm ingredients: 100% Grass Finished Beef Tallow, Jajoba Oil, Kokum Butter, Hyaluronic Acid, Rosehip Oil, Emu Oil, Tamanu Oil, Silk Proteins, Manuka Oil, Hibiscus Oil, Vanilla Oil
**WHY WE LOVE IT**
The hydrolyzed silk protein promotes elasticity, firmer skin, clear redness and inflammation, fewer fine lines, fading acne scars, repair sun damage, and helps speed up skin cell functioning. It also bonds with other proteins and molecules in the skin, firming it up and increasing hydration levels.
Kokum butter has powerful moisturizing properties and won't clog pores. It is frequently used a variety of skin issues, including: acne, minor inflammatory conditions, and dry skin. It can help restore unevenness in skin tone.
High in vitamin A, F and E and helps boost your body production of collagen.
Vanilla is a great ingredient to help reverse skin damage, and is rich in antioxidants for a potent skin nourishment.
Hibiscus has high mucilage content that can enhance the skin's ability to retain moisture, which is key for maintaining a youthful complexion. It is naturally moisturizes rich qualities that helps skin stay hydrated, soft and supple for longer, keeping dry, dull skin at bay. 
Get to know all of the benefits of our ingredients here!
**Please Note**
This is a completely natural & handcrafted product. There
can be variations of consistency and texture between each
batch of tallow. However, this does not alter the quality or
amazing properties within the tallow.
**Disclaimer**
Products from Tallow and Honey are
not
FDA approved
and are
 

not
intended to diagnose, treat, or prevent
disease.
I always recommend to perform a test patch to check
for sensitivity. If sensitivity occurs, discontinue use
immediately.
Share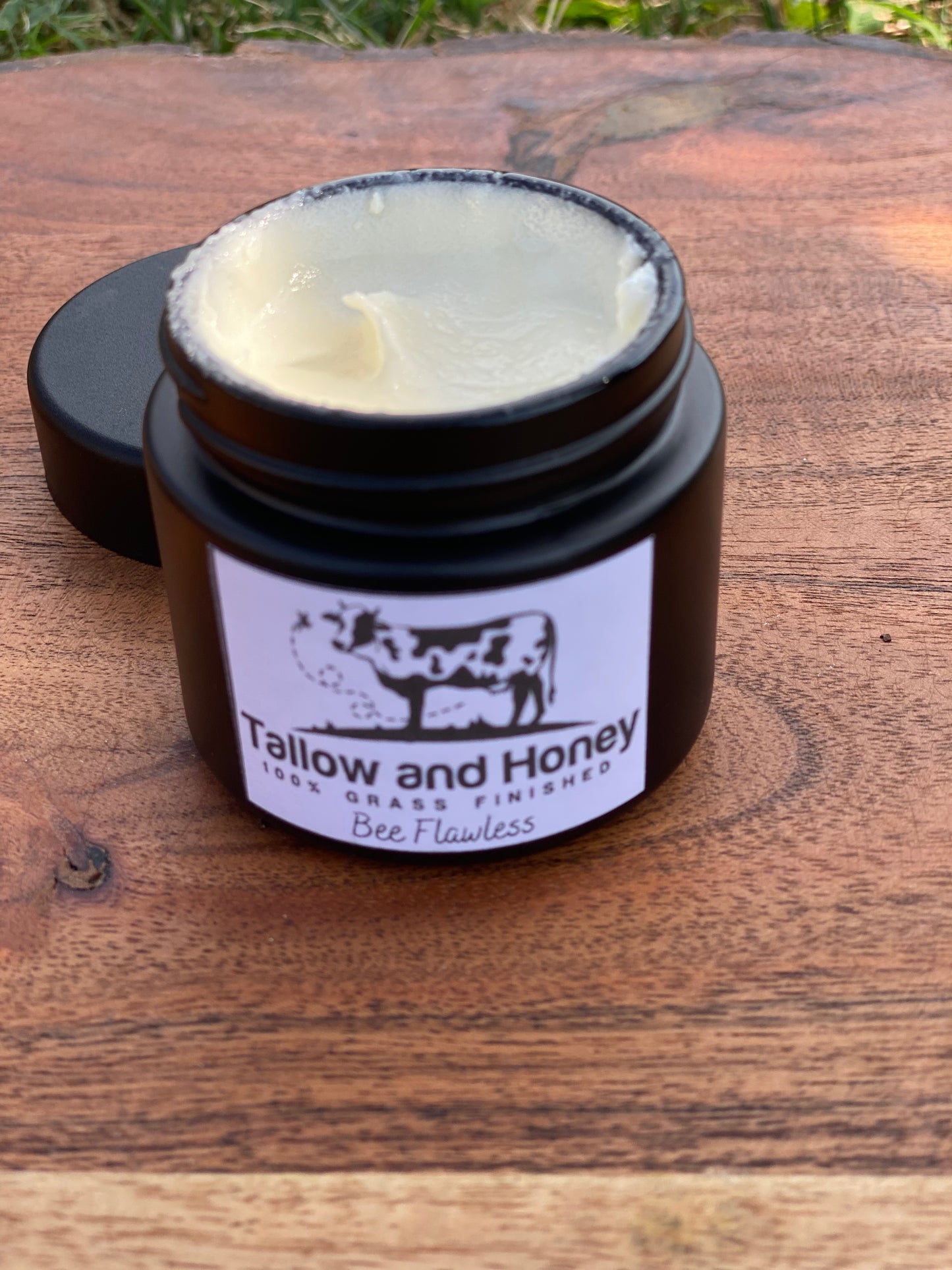 Holy grail
This stuff is honestly amazing. I do my full skincare routine and apply this in the morning as the last step. You only need very very little. My skin has never felt so soft
Wonderful Product!
I have struggled with dry skin for a long time. I started using Bee Flawless about 3 months ago and I have seen a huge difference in my skin. I am not dry like I use to be and I stopped having a bunch of breakouts. I am very pleased with the product. I definitely recommend. Thank you Tallow and Honey for making me feel good in my skin again.
Amazing product and incredible customer service!! Very pleased 😊
Awesome product!
So silky smooth on my skin and feels very light and airy. Loving the results!
Works great!
I love how the bee flawless tallow makes my face glow and feel so smooth. I only gave 4 stars because when I received my package the lid was broken and quite a bit had leaked out into the envelope as it was completely melted. I am unable to close the lid after use and am hoping it doesn't go bad due to this. I love the product but was disappointed in how it arrived and the packaging.